I've used Design Thinking method and Human-centered design process the wireframes of an App connected to WhatsApp.
This is an App to organise contacts in relation of privacy. You can manage contacts by different sounds to understand if you want to answer or not, organise list, etc…. My Persona is a modern Mum, with a special attention for privacy. The App imports the contacts directly from the address book.
I created a persona and a user journey map to achieve empathy with my users.
This is My Persona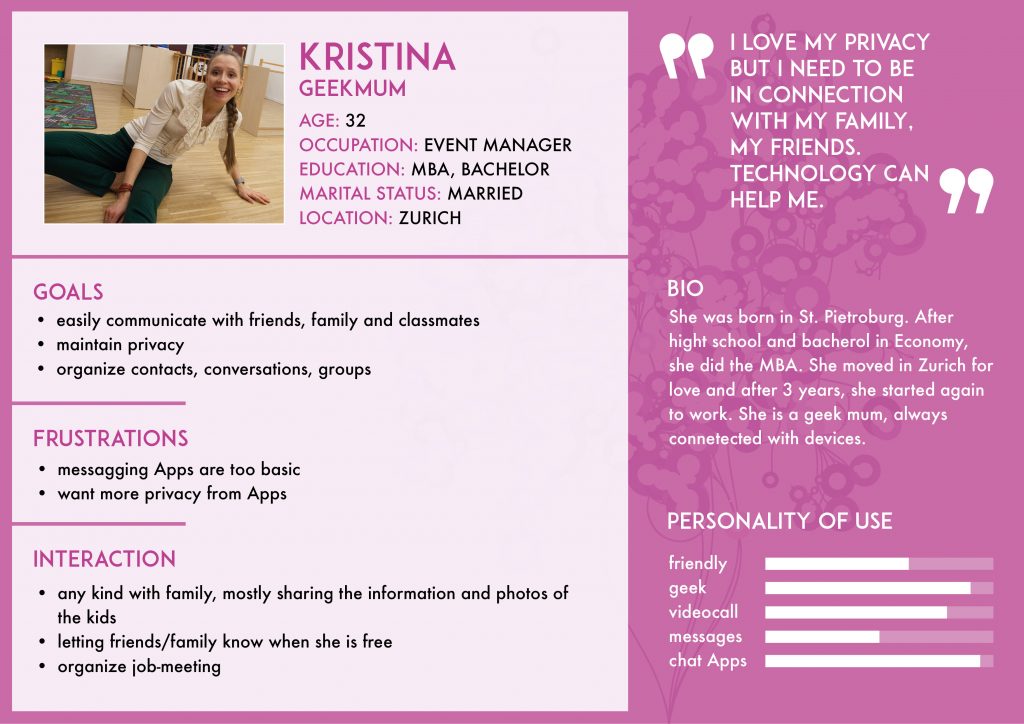 And this is my journey map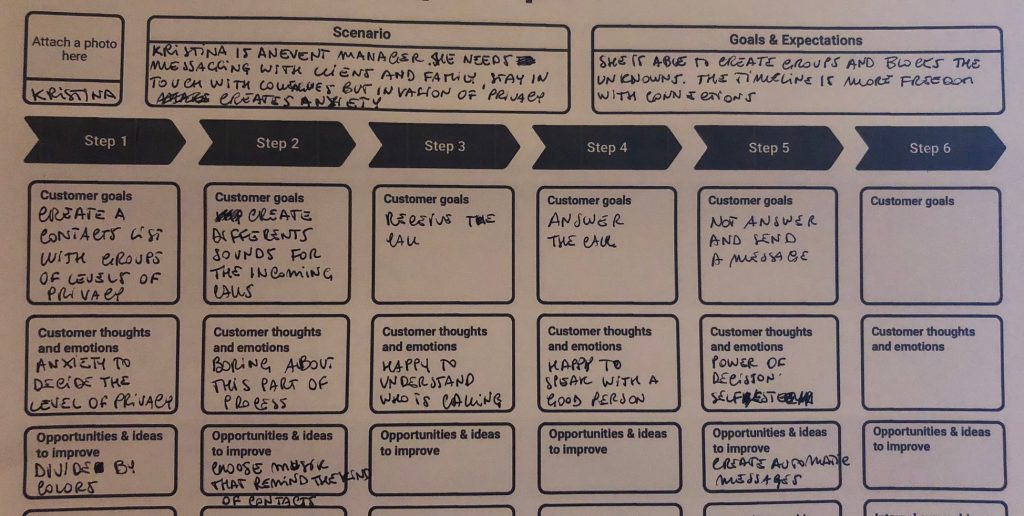 SCAMPER method
Substitute
Can I substitute WhatsApp with another equally common messenger?
– No, because most of friends, family and clients use it
Can I substitute my contact list with my business only contacts?
– No
Can I substitute the private nicknames of my colleagues with real names?
– Yes
Combine
Can I combine the app with features of other apps like doodle or Google calendar? – Yes
Can I combine my business mail account with this work group? – Yes
Can I combine our slack channel for clients with the whatsapp group? – Yes
Adapt
Can I adapt provided entrys to the calendar automatically? – Yes
Can users mute the group if they won't take part this time? – Yes
Can Ipin important notes at the channel? – Yes
Modify
Can I split WhatsApp and divde between business and private? – Yes

Can I use a special sound for personal contacts – Absolutely yes
Can I modify the visual elements of the channel? – Yes
Can I make special adjustments for this group? (message read, been online, invisible mode..) – Yes
Put to another use
Can senior citizens use the app? – They should can
Can i Use it with my friends? – Obviously
Can I categorize messages? (like suggestions for locations)
– Yes would be cool
Eliminate
Do I need video calling? – Yes
Do I need nicknames?- Yes
Can I split the app into different approaches?
Rearrange
Can I rearrange the layout? – Yes, I can
Then here there is the low fidelity Prototype of the App